Former President Trump unleashed an unprovoked attack on newly victorious Florida Governor Ron DeSantis on Wednesday in the wake of a disastrous midterm election for Republicans.
Trump lashed out at DeSantis, claiming that the midterm elections hadn't been that bad and then proceeding to also claim that he had won more votes in Florida than DeSantis had.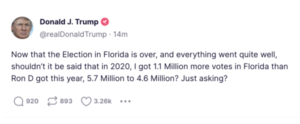 Several high profile candidates backed by Trump, such as Pennsylvania Senate Candidate Mehmet Oz and Gubernatorial candidate Doug Mastriano, lost badly while many other GOP candidates also suffered severe setbacks.
Many conservative political observers have since turned on Trump, in the process blaming him for the losses and declaring DeSantis the new unofficial head of the party.
We need a Republican overhaul. Trump pushed a bunch of candidates that SUCK and everyone knew it but we have no choice but to go along. We had everything on our side and missed the mark. DeSantis is the new head of the party, not a 76 year old man.

— Caleb Hull (@CalebJHull) November 9, 2022
Some clear takeaways:

– New Yorkers want crime. It's who they are. Stay out of cities.

– Arizona today shows 2024 is unsafe. Indictments must happen. Highest priority.

– Trump can't carry a general.

– DeSantis can pull independent voters. Flipped Miami Dade. It's his time.

— Cernovich (@Cernovich) November 9, 2022
[READ MORE: Crew of 'Morning Joe' Declares GOP to be 'Ron DeSantis's Party' After Election Night Chaos]