Service members stationed at an Air Force base in North Dakota recevied a text message from leadership cautioning them about going to a pro-Trump rally, warning them that going to a political rally could hurt their careers.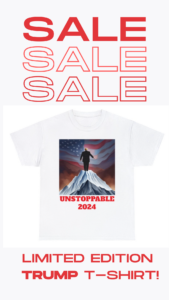 According to base officials, the speaker in question was that Tyler Bowyer from Turning Point Action, a group founded by conservative activist Charlie Kirk. 
Fox News reports: 
At issue was a planned Nov. 17 event dubbed the "Dakota Patriot Rally" at the state fairgrounds in Minot, and the text warned personnel "to be cautious" if they were in the area, especially because some rally-goers "could be confrontational to military members." The text, which was shared with the popular "Air Force amen/nco/snco" Facebook page, also noted that the event would feature a guest speaker from Turning Point Action, which the warning noted is an "alt-right" organization.
Turning Point Action, a 501(c)(4) organization founded in 2019, typically promotes conservative values and has a history of support for former President Donald Trump.
Though the group has attracted controversy for questioning the results of the 2020 presidential election and the efficacy of COVID-19 vaccines, it has become a mainstay in conservative political circles. According to a report from the New York Times, the group's July 2023 ACTCON conference in Florida drew about 6,000 attendees and included speaking engagements by Trump and about a third of Republican presidential candidates who were declared at the time.
Turning Point rallies have drawn thousands and seen almost every Republican candidate for president speak at their events, including the moderate governor from Arkansas Asa Hutchison, the most anti-Trump candidate in the Republican field. 
In a statement responding to the report from Fox News, the group defended itself and its leadership against acusations that they are "alt-right," saying TPAction is "a mainstream conservative organization and Tyler Bowyer is not some fringe personality—he's the COO of TPAction, an RNC committeeman from the state of Arizona, and one of the most accomplished political organizers in the country."
The spokesman also pushed back against the idea that the event would have been unsafe for service members, noting that attendees were "some of the US Military's most ardent supporters."
Most upsetting to TPAction was leadership's warning that associating with the group might be a punishable offense.e
"How dare they dissuade servicemen and women from affiliating with conservative groups and leaders," the spokesman continued. "This should set off alarm bells throughout North Dakota and DC, that something is terribly wrong at the Minot Air Force base. This also warrants an immediate congressional hearing and investigation, and whoever is responsible should be held accountable. It's exactly this type of poison that has caused the Air Force to miss its recruiting goal for the first time in decades."
[Read More: FBI Set Aside Important Investigation For Sick Reason]