James Buckley, a former US Senator from New York, died on Friday at the age of 100. Buckley was a conservative politician who served in the Senate from 1971 to 1977. He was also a lawyer, author, and broadcaster.
Buckley was born in New York City in 1923. He was the fourth of 10 children of a wealthy oilman. He attended Yale University and Harvard Law School. After law school, he served in the US Navy during World War II.
After the war, Buckley worked as a lawyer. He also wrote several books, including a biography of his father. In 1970, he ran for the US Senate as a member of the Conservative Party. He won the election, becoming the first third-party candidate to win a statewide office in New York.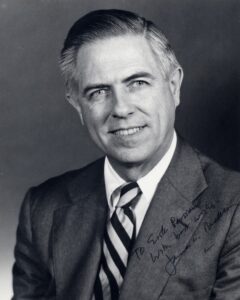 Buckley served one term in the Senate. During his time in office, he was a vocal critic of the Vietnam War and the Watergate scandal. He also supported a constitutional amendment to ban abortion.
After leaving the Senate, Buckley continued to be active in politics and public affairs. He served as a federal judge from 1985 to 1990. He also wrote several more books, including a memoir.
Buckley was a controversial figure, but he was also a respected intellectual and a leading voice in the conservative movement. He will be remembered as a man of principle and conviction who fought for his beliefs.
In addition to his political career, Buckley was also a successful author. He wrote several books, including a biography of his father. His brother William hosted a radio show called "Firing Line" for many years. Buckley was also a skilled debater and a witty conversationalist.
Buckley's death is a loss to the conservative movement and to the nation as a whole. He was a principled and independent thinker who never shied away from controversy. He will be remembered as one of the most important figures in American conservatism.
Buckley is survived by his six children, eight grandchildren, and two great-grandchildren. His wife, Ann Frances Cooley, died in 2011.
A memorial service for Buckley will be held at a later date.