Former NFL Running Back Alex Collins died in a motorcycle accident late Monday evening at the age of 28.
His former team, the Seattle Seahawks, called Collins a "a beloved teammate and fan favorite during his two tenures with the team."
The Seattle Seahawks released the following statement:
"It is with heavy hearts that we announce the passing of our beloved Alex Collins this morning," Collins' family said in a statement. "Alex was cherished by his family and friends as well as supporters from all around the world. All who truly know him can attest to his drive, determination, and larger-than-life personality. We kindly request your thoughts and prayers for our family during this difficult time. We ask for privacy as we navigate through our grief. We will provide updates regarding funeral arrangements as they become available."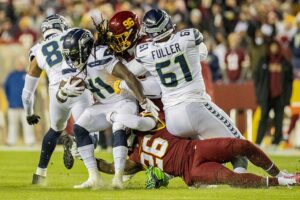 "The Seahawks family along with the 12s are so saddened to hear of Alex's passing," Seahawks executive VP/general manager John Schneider said. "Alex's infectious smile and classic river dance skills will forever be missed. Alex would light up a room and was beloved by our entire building. He enjoyed life and attacked it on the football field. He was one of the most productive runners in SEC history. Our sincere condolences to his immediate family, the Gatewood family, and his agent Kelli Masters. You will be forever be missed, Alex. On behalf of Jody Allen, Pete Carroll, Chuck Arnold, Chad Morton and the entire Seahawks community, rest in peace brother."
Alex Collins was drafted by the Seattle Seahawks in the fifth round of the 2016 NFL Draft. After his rookie campaign in Seattle, he spent two seasons with the Baltimore Ravens before returning to Seattle in 2020 and 2021. He spent the 2023 spring season playing for the Memphis Showboats of the USFL. Collins earned praise from coaches and players around the league for his ability to open up the running game.
Baltimore Ravens coach John Harbaugh said in a statement: "Alex was a joy to be around and someone whose light shined brightly."
"I'll always remember him for being a great teammate who had an uplifting spirit that impacted everyone he encountered. He was also a smart player who ran with unlimited determination, and he contributed to a lot of our success during his time in Baltimore," continued Harbaugh.
Alex Collins was a fan favorite in Seattle for his big smile, joyful demeanor, and signature Irish dance touchdown celebration. He took up Irish dancing prior to his NFL career to improve his footwork, and the celebration was a nod to that activity.
Collins is a native of Fort Lauderdale, Florida, and he attended Arkansas after a standout career at South Plantation High School. He was one of three players in SEC history to rush for more than 1,000 yards in three consecutive seasons, a fact that his head coach, Pete Carroll, often mentioned when talking about him.