Pat Sajak, the iconic host of Wheel of Fortune, has announced that he will retire after the 2023-2024 season. Sajak, who is 76 years old, has hosted the show since its debut in 1983. He will continue to serve as a consultant to the show for three years after he retires.
In a statement, Sajak said, "Well, the time has come. I've decided that our 41st season, which begins in September, will be my last. It's been a wonderful ride, and I'll have more to say in the coming months. Many thanks to you all. (If nothing else, it'll keep the clickbait sites busy!)"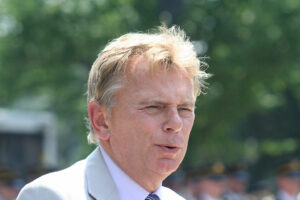 Sajak's retirement will mark the end of an era for Wheel of Fortune. He and co-host Vanna White have been a staple of American television for decades. The show is one of the most popular game shows in the world, and it has won numerous awards, including 38 Daytime Emmy Awards.
Sajak's retirement is a bittersweet moment for fans of Wheel of Fortune. He has been a beloved figure on the show for many years, and he will be missed. However, Sajak is leaving the show on a high note. The show is still going strong, and it is likely to continue for many years to come.
Sajak has not yet announced who will replace him as host of Wheel of Fortune. However, there are a number of potential candidates, including Wheel of Fortune co-host Vanna White.
This is a breaking news story and will be updated as more information becomes available