The conservative media landscape changed rapidly over the course of 2022 with some former major players declining in significance while newer faces rose to a newfound prominence.
Here is a list of the 10 most important and influential conservative media figures in America for 2022:
10: Ben Shapiro
The reporting from people like @Project_Veritas in Chicago and @lukerosiak in Loudoun County makes clear that the radical Left is coming for your kids.

They are intentionally confusing kids and making them messengers of woke ideology. You cannot ignore this anymore. pic.twitter.com/XBiFvVWtT3

— Ben Shapiro (@benshapiro) December 9, 2022
Ben Shapiro may be the most powerful individual pushing right-wing debate online.
His program, website, and initiatives are always in the news, if not making it.
His views have a wide audience, ranging from his large Twitter and Facebook followings to the millions of people who check in to hear his analysis on YouTube and elsewhere.
9: Sean Hannity
Tonight's @seanhannity hit with @StephenM on @twitter file revelations. This is the biggest political rig job of our lives. It's time for criminal investigations and a reckoning. Watch the discussion: pic.twitter.com/WGWSIERtXe

— Clay Travis (@ClayTravis) December 9, 2022
Sean Hannity's ratings and influence continue to dominate the cable news business. His daily ratings on his Fox News prime-time show frequently outperform those of his CNN and MSNBC primetime counterparts. He gets an even wider audience with his syndicated radio show, where millions tune in for three hours a day to hear his opinion.
8: Megyn Kelly
Megyn Kelly blasts Prince Harry: 'He needs a therapist, not a whiny, woke annoying wife' https://t.co/bimKnuFDKz pic.twitter.com/WRDiHlIEzL

— New York Post (@nypost) December 13, 2022
Kelly found an audience without the support of a big network with The Megyn Kelly Show, an independent podcast she established and grew successful enough for SiriusXM to take up last year after cutting her teeth with prominent hosting positions at Fox News and NBC.
Megyn Kelly's takedowns are merciless.
7: Peter Doocy
Peter Doocy RATTLES unhinged KJP after calling out Biden's disaster prisoner swap to FREE Russian "Merchant of Death"

— Benny Johnson (@bennyjohnson) December 8, 2022
Doocy was promoted to the White House press corps once candidate Biden became President Biden, where he continued to gain attention through near-daily battles with Jen Psaki and sometimes fiery encounters with the president himself.
Despite the public spats, Doocy has maintained a cordial relationship with Biden's press team.
6: Jesse Watters
Jesse Watters and Tucker reveal SHOCKING Regime plot to plant operative within Twitter pic.twitter.com/dRMj370I4C

— Benny Johnson (@bennyjohnson) December 8, 2022
Watters was awarded his own program this year in the coveted 7 p.m. hour this year.
"Jesse Watters Primetime" has subsequently become its own ratings powerhouse.
Watters also continues to sit in the center seat on The Five, which is currently the most viewed show on cable news.
In November, his cumulative viewership was more than 6.8 million, placing him far and beyond the most-watched person on cable news on a daily basis.
5:  Bill Maher
Bill Maher on cancel culture.
Show: Real Time with Bill Maher
source: YouTube#CancelCulture pic.twitter.com/bHGcJXytW2

— Kostas R. (@KostasHeraklion) December 7, 2022
The potential of his program to sway opinion is still enormous, and his unique ability to hone in on hot themes before they go viral keeps him in a place of prominence in the modern media landscape.
Impressive guests, contentious subjects, and Maher's frequently contrarian opinions on "culture war" concerns are sure to elicit significant interest from fans and critics alike
4: Laura Ingraham
Ron DeSantis calls for grand jury to investigate COVID-19 vaccine wrongdoing. pic.twitter.com/z7uQayTPuj

— Laura Ingraham (@IngrahamAngle) December 14, 2022
Ingraham is almost certainly the most powerful female voice at Fox News, and has recently issued scathing criticism of President Trump and the performance fo the GOP in the recent midterm elections.
3: Tucker Carlson
Tucker Carlson Segment On The Number Employees At Twitter Who Worked For Foreign And Domestic Intelligence Agencies

"Could it be that Twitter was actually, maybe primarily a propaganda tool, an intelligence gathering apparatus for a variety of intel agencies?" pic.twitter.com/XryjVqwmHm

— The Columbia Bugle 🇺🇸 (@ColumbiaBugle) December 14, 2022
Tucker Carlson Tonight is still #1 in the demo this year, and he outperforms his timeslot competition combined.
Carlson's clout in American right-wing politics makes him one of the media's most powerful people.
2: Joe Rogan
"Woke Culture is CULT like thinking." ~Joe Rogan~ pic.twitter.com/Hj24TSCwM9

— Frankie Marino Jr (@FMarinoJr) December 10, 2022
His podcast is still at the top of the Spotify charts. Interviews with Mark Zuckerberg and Aaron Rodgers were among Rogan's most memorable episodes in 2022.
1: Elon Musk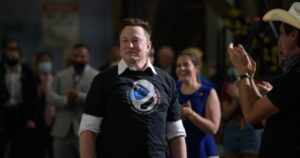 Musk, who promised to make the immensely popular social media network into a Shangri-La for free expression, promptly reinstated Trump's and other unpopular personalities' personal accounts and initiated mass layoffs that sent a majority of Twitter's workers, including key executives, packing.
Declaring transparency to be one of the new Twitter's most valued values, he published records relating to the company's most contentious prior actions, including as the ban on Trump and the concealment of the Hunter Biden laptop story.
[READ MORE: Gavin Newsom Claims California Being Overwhelmed by Illegal Migrants Due to Biden Policy Change]